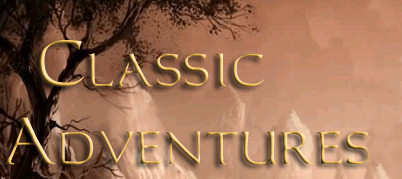 About Classic Adventures
Classic Adventures will be a compilation of many of the old and some new classic PnP (Pen and Paper) modules. We fully plan to include series like A, D, G, S, and U into this story. There are several newer mods that will also be included into this project just for some variety.
CA Portrait Project
Aug 14, 2013
Here you can find a nearly exhaustive selection of alternate portraits for CA's NPCs! Included are portraits that are being used, have been used, and were almost used at some point since the conception of the Classic Adventures mod. Included are the Large, Medium, and Small portrait sizes for both the original game engine and BG:EE.
Homepage back online!
Jun 12, 2013
After being down for FOREVER, the CA Homepage is finally up and running again! As we work to resume progress on Classic Adventures, I will be updating the website as we go. If you find any errors, misspellings, inconsistencies, or if you have any suggestions for our homepage, please report them here.
Version 0.53a Patch has been released!
Dec 13, 2010
Get it here.
Version 0.53 Full released!
Oct 05, 2010
Get it here. The homepage has also been updated with a new NPC and updates to many of the others, including several great new portraits. Be sure to check them out.
---
News Abstract
Apr 26, 2009
We would like to thank Sanjana Baijnath for helping the CA Team. I am a huge fan of her art. To look at her art follow this link: http://www.sanjanasart.com. She is available for commission pieces. I hope you can all show her your support!
---
Jun 28, 2009
We would like to say thank you once again to Kat (theacefes) for composing new music which will appear in the next update of Classic Adventures, v0.50. We are very happy to get her help! Ace has composed music for several mods and you can find many samples of her work at her website.
---
Feb 15, 2010
The CA team would like to thank Travis Moore for drawing the lineart for the NPC, Grozhar. We would also like to thank Nix for coloring Grozharís new portrait.
---