Althon Merchantius
Human, Fallen Cavalier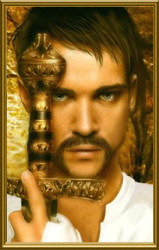 Althon Merchantius was born into an influential family of Waterdeep, with his superb negotiation skills; he became a respected young nobleman by the age of 20. Althon was invited to join his father and learn more of his family's business.
His family is one of more influential trading houses of Waterdeep. Soon after joining his father, Althon learned of Waterdeep's secret Council of the representatives, a group of members who, unknown to the others, conspired to achieve power through economic and political means.
Through the force of his personality, Althon is rising in the ranks with the eventual goal to become one of the leaders of the Council. Now in his thirties, Althon knows it is time to acquire allies so he may eventually lead the Council.
Click here for Althon's Attributes.
---
Getting Althon
Location: Saltmarsh
How To Acquire: After Lord Baltis approached you in Saltmarsh, you may proceed to his house where Althon is waiting.
Special Equipment: Teargiver Sword of Wounding, Venom's Bane
---
| | |
| --- | --- |
| Strength | 18/68 |
| Dexerity | 10 |
| Constitution | 17 |
| Intelligence | 16 |
| Wisdom | 14 |
| Charisma | 17 |
| Alignment | Lawful Evil |
---
---
'Teargiver' Sword of Wounding
Teargiver was forged long almost 1800 years ago by a Netheril wizard for the paladin Reliaz Justmarch to help defeat Embercoat. The red dragon Embercoat attacked his town Frothwater continuously over twenty years. Embercoat raided the town twice seasonally. Young Reliaz Justmarch was given the Teargiver on his second attempt to defeat Embercoat. He had met Embercoat one year before when he and his friends challenged the dragon in her lair. He was the only survivor of the first attempt to defeat the ancient dragon. Shortly after Embercoat killed Reliaz she died of wounds sustained by the blade.(-624 of the Netheril calander.)
This ancient blade glows a brightly. The damage done cannot be regenerated or healed magically. Only natural means such as bed rest will recover hit points lost. Any wound caused by the sword inflicts an additional hp of damage every subsequent round until bandaged.
STATISTICS:

THACO: +1 bonus
Damage: 2D4 + 1
Special Abilities: Each hit causes 1 additional point of damage per round until bandaged or a cure spell is cast.
Damage type: slashing
Weight: 9
Speed Factor: 4
Proficiency Type: Bastard Sword
Type: 1-handed
Requires: 11 Strength
Venom's Bane (Medium Shield+1)
All that remains of the origin of Althon's shield are folktales and legends. The most popular of these is that an impossible battle was once fought in the tanglewoods against the ancient green dragon Venom. Over the years the territory of Venom the Great Green became smaller. The wyrm was getting old and his naps increased from months to years in the next few decades. Then, in The Year of Elfsorrows (-206 DR), a moon elf warrior by the name of Jassin Aunglor braved the hazards of the Tangled Vale and confronted Venom while he slept. Armed with one of the legendary moonblades, Jassin and the green wyrm fought a terrible battle. In the end the dragon's lair caved in beneath tons of rock, and Jassin, Venom, and the moonblade were never seen again. The only item which remained was his shield which was given to his daughter. Many generations had passed and the shield was given to Althon by Markessa Demuir, a decendant of Jassin. It was redecorated to display Althon's house colors. He dearly treasures his shield.

STATISTICS:

Abilities: Allow the bearer to become immune to poison.
Armor Class Bonus: 1
Weight: 5
Requires: 14 Strength
Not Usable By:
Althon Merchantius Only
---
Althon gets along with many NPCs despite his evil alignment. Being an family ally of Aesdale, Althon has some interesting banters with Aesdale. Althon finds Rihn fasinating, given the right circumstances, will romance Rihn.
Althon has special chemistry with Vildamyr and view him as a kindred spirit. He dislikes gnomes and does not work well with Erky.